You can contact us by email through Customer Service.
Amsterdam Office


Ferdinand van der Neut




CEO, Founder




Beethovenstraat 74-4




1077 JM  Amsterdam




 

x

Rotterdam Office (HQ)


Olav van der Willik




CCO, Co Owner




BlueCity (former Tropicana)




Maasboulevard 100, unit 2




3063 NS  Rotterdam




Mob. +31 6 55 88 24 11


Google Navigation
 
 
 

 


Rotterdam Office (HQ)


Dineke van Wingerden




CFO




 

 

 
 
 

Advisory Board


Abel Slippens, former CEO Sligro Group


www.slippens.com


Jules Oderkerken




www.odekerkenconsultancy.nl

 

x

 
 
 
 
 
 
 
 
 
 
 

x
Origins of Fruit Fly Ninja
In the spring of 2014, we were besieged by a swarm of fruit flies in our office. They were everywhere, from the kitchen to our very desks. They were annoying, distracting and – not least – bad for our appetite.

We were hearing from all around us that we were not alone in this, and no one had found a good solution yet. So we set out to test the traps available on the market and found them to be unsatisfactory, mainly because they simply don't work. They might catch a few flies, but far from all of them. Naturally, this allows the remaining flies to breed, which is where the problem truly lies. A single fruit fly can lay more than 300 eggs and, in just 8 days, these newborns are also capable of reproduction. This high-speed breeding cycle is the source of local "infestations".

On a more personal level, we found the available traps to be rather expensive and, well, not very pretty. We spend a lot of effort (and money) on a nice kitchen design, so why would we want a big piece of plastic in plain sight?

These findings inspired us to come up with something better – an effective, simple and elegant solution. Thorough analysis, research and experimentation brought us to an amazing final result. And because we know we're not the only ones being harassed by fruit flies, we are pleased to offer our solution to the rest of the world.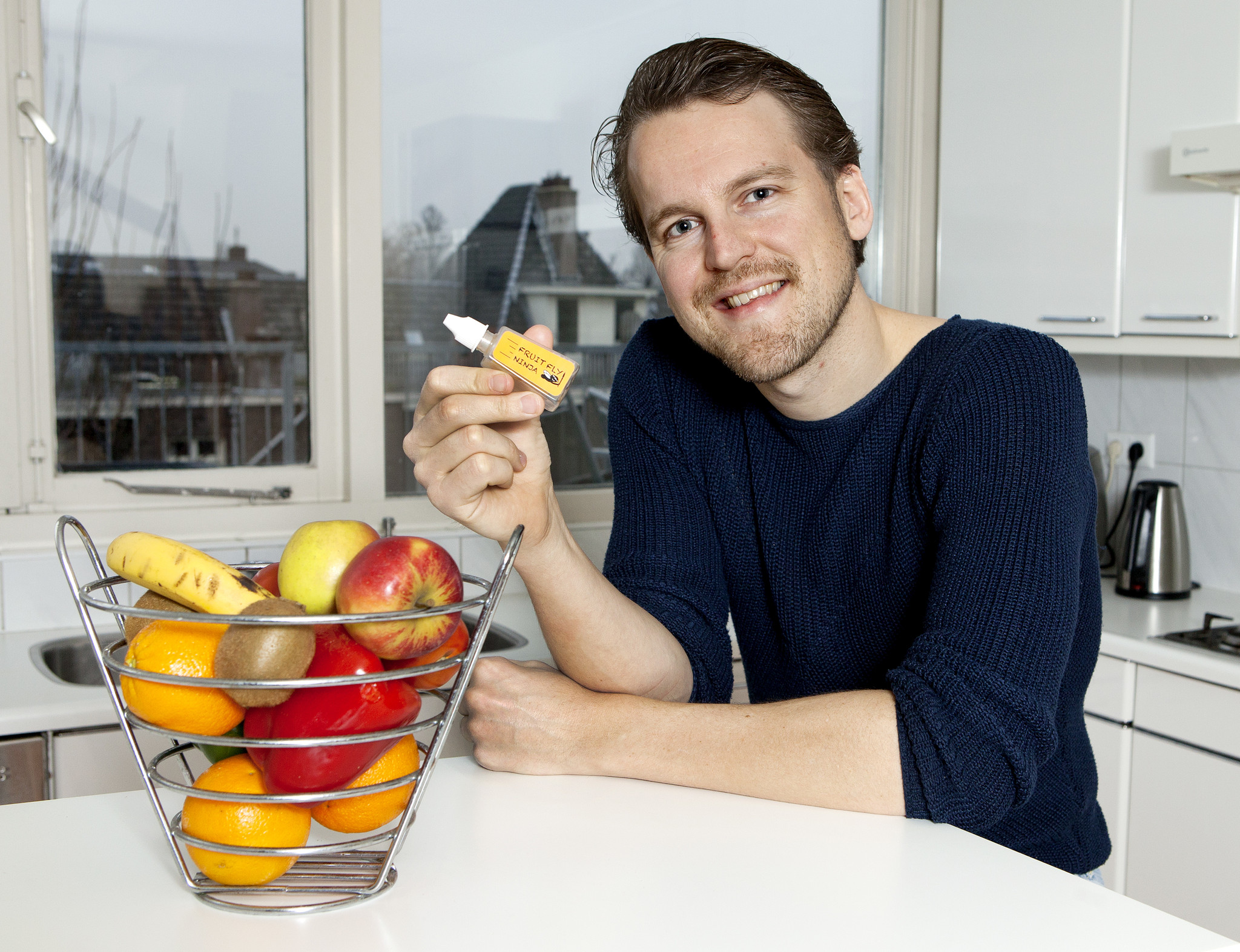 Fruit Fly Ninja's founder Ferdinand van der Neut with one of the prototypes, at home in Amsterdam (photo: De Telegraaf / Rob de Jong).