Reviews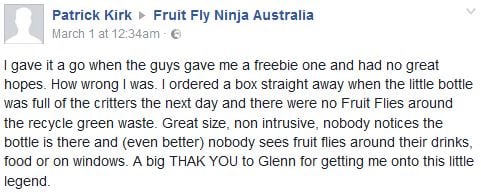 Nadia
"Fruit Fly Ninja is my best friend in the kitchen! Our kitchen was full (and I mean FULL) of those pesky fruit flies and within a couple of days they were gone, and boy did we get a collection in our ninja container! (Secretly satisfied with our catch) Highly recommended!"






Alex Cooper, Licensee at THE OAKS HOTEL, Neutral Bay, Sydney metro
"We are happy with the product. Before we used Fruit Fly Ninja we used a spray but that didn't work well, we still had fruit flies flying around. [...] Then we got recommended to Fruit Fly Ninja by another venue, and yes it solved our problems. And it's so simple to use, just stick on walls. I haven't seen anything like this. I'd happily recommend this product to others, because it works and it's simple to use."
Damon Workman
"Seems to work really well. Put them up in a couple of tough spots and we saw an almost immediate reduction in the number of fruit flies."
Janet Weber
"This is the most amazing product for killing fruit flies. We were so impressed that we had to order more as we shared the first order with family and friends who were also impressed. We're all raving about."